The Pittsburg Community Schools will be closed from Thursday, January 13, 2022 siting"staff shortages" as the tipping factor. Classes will resume on Tuesday, January 18th, 2022. We have complete details to follow.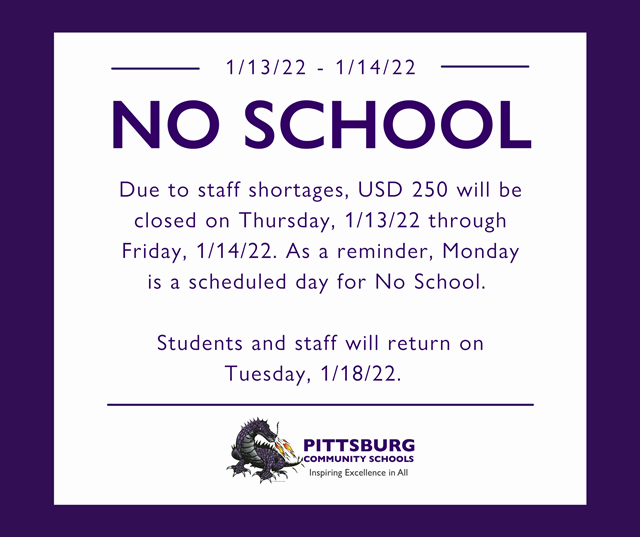 Due to staff shortages, USD 250 will be closed on Thursday, 1/13/22 through Friday, 1/14/22. As a reminder, Monday is a scheduled day for No School. Students and staff will return on Tuesday, 1/18/22. Visit

USD250.org

for more information:

https://bit.ly/3tqnAv8
Pittsburg Community Schools USD 250
Today we reached a critical juncture. We have a high number of staff (teachers, paraprofessionals and classified staff members) who are positive or are in quarantine. At this rate, we will not have enough staff and substitutes to adequately staff our buildings to keep the schools in operation at the level of care that we need to provide.

I have made the decision to cancel school for Thursday and Friday 01/13/2022 and 01/14/2022. We will not be requiring the students to engage in school work in an online format during the cancellation. This will provide us with a five (5) day period to help our positive students and staff recover and diminish the chance of person to person transmission in our school buildings. As a reminder, we do not have school on Monday as it is Martin Luther King Jr. Day.

This decision is primarily based on the district's ability to adequately staff and supervise our students in our regular classroom settings. Because of this, extra-curricular activities that are able will resume as scheduled. Persons attending extra-curricular activities will be asked to wear masks while in our facilities to help mitigate the spread of Covid due to its high transmissibility.
Tags: