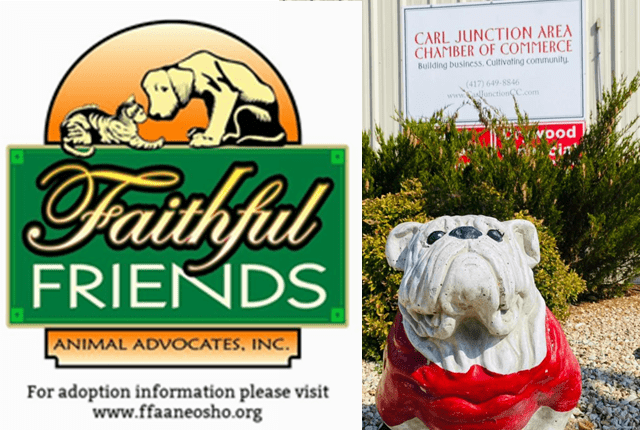 Today we have a great show lined up for you on 4-State LIVE! Learn how you can adopt a furry friend with Faithful Friends Animal Advocates, Inc. Plus, details on a couple of events taking place with the Carl Junction Area Chamber of Commerce. And Pro 100 Inc., Realtors is celebrating a milestone.
FFAA is a group of dedicated, caring individuals committed to the giving of time and talents to tackle the issues of animal welfare in the Neosho, MO area. We have been meeting twice monthly since May 2008. We have received both federal and state non-profit status. In 2015 we completed the building and opened our Adoption Center in Neosho, MO.

The abused, abandoned, and neglected domestic animals in our community must entirely depend upon people like us to stand for the humane care and respect they deserve. They need our help and our voice. We invite you to be a part of this effort in any way you might be able. Email ffaaneosho@yahoo.com to find out how you can be a part of the organization!  If you'd like to volunteer click here.
For more information please call (417) 592-2512.
---
---
Carl Junction Area Chamber of Commerce
(417) 649-8846 | Click here for more information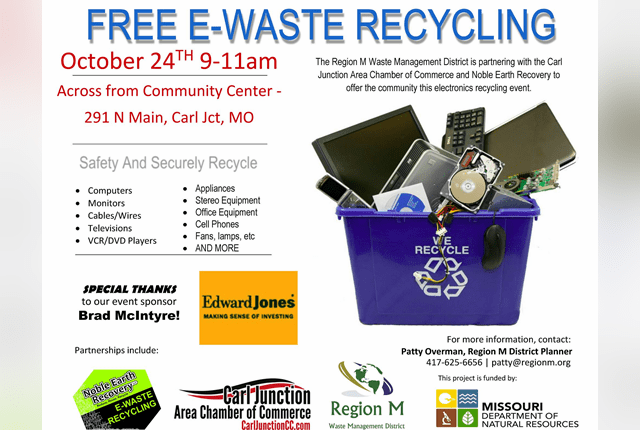 The Region M Waste Management District is partnering with the Carl Junction Area Chamber of Commerce & Noble Earth Recovery to offer the community this electronics recycling event.

You can drop off the following items:
-Computers & Monitors
-Cables/Wires
-Televisions
-VCR/DVD Players
-Appliances
-Stereo & Office Equipment
-Cell Phones
-Fans & Lamps
Tags: